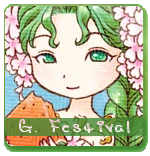 With spring underway, the planning for the Goddess Festival has begun. Make sure to place your vote for what weekend will work the best for you so we can have another successful festival here on the Meadow!
To vote check out this topic in the rpg dicussion board.
Also for those who took part in the New Years Festival has recieved the Happy New Year Conamu award so be sure to check it out if you haven't already!