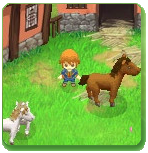 I announced this on the twitter already but I thought I'd post about it here too. As of this morning (at least from my last twitter session), Natsume has announced its plans to release Harvest Moon Twin Villages here in the states.
No date has been given just yet, but they did tell us that the game will be available for the DS and the new 3DS. They also left us with the new "English" name which will be A Tale of Two Towns.
Also for those that want to check it out for themselves, here's the Natsume Inc. Official Twitter where you can read all about it.