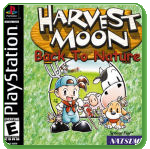 If you don't know yet, Harvest Moon Back to Nature is available for purchase on the Playstation Store!
The game itself is set at only $7.99 at least for those of us in the United States. Back to Nature officially launched on the PSN on February 8, 2011.
For those of you who've never play Back to Nature, here's your chance to rediscover a classic!