Another Wonderful Life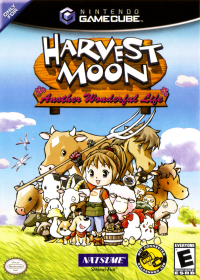 Published by Natsume Inc.
Developed by Marvelous Interactive
Platform GameCube
Release Dates
Japan July 8, 2004 - North America July 26, 2005 - Europe n/a
Game Info
"To a city girl, a place like Forget-Me-Not Valley must be interesting I guess."
This is how the game opens up, on the coast line of Forget-Me-Not Valley. Apparently your father and his friend Takakura found an old farmland, and used to talk about restoring it to its former glory. However it turned out being all talk for your deceased father. Now Takaura has thrown his dreams on your shoulders. Can you revive your father's old farm and fulfill his dream?
Features
- Play through 6 chapters of life spanning 30 years -
- A live, changing community filled with friendly villagers -
- Care for cows, sheep, chickens, ducks and more -
- Grow a variety of crops and trees including hybrids -
- Woo, date, marry, and raise a family with one of three eligable guys -
- Build relationships with villagers in town to widen your sons career options -
- Realistic environmental effects and smooth seasonal transition –
- Link up to FoMT to unlock cool recipes and secrets in both games –
- Buy new fashions for your farmer! -
Information Pages
Another Wonderful Life Images