Back to Nature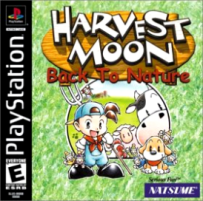 Published by Natsume
Developed by Victor Interactive Software
Platform Playstation
Release Dates
Japan December 16, 1999 - North America November 22, 2000 - Europe January 26, 2001
Game Info
When the game opens up the screen will be black and you will hear two parent's apologizing to their son for not being able to send him on a proper vacation. Instead they decided to send him off to his Grandfathers' farm. It will then go through and play some events that happen on the farm including when the young boy (you) meet a young girl up in the mountains.
The two of you hit it off and become good friends. When it comes time to leave the farm, the girl shows up just as your character is about to leave and has him promise her that he will return someday. The Boy (you) promises and 10 years later the game begins with your character returning to his Grandfathers farm which is now rundown since his death.
It's then when Mayor Thomas comes onto the farm talking about your grandfather. Apparently he died 6 months ago and left his whole farm to the young boy from long ago. Thomas then gives you the farm and tells you if you can have it up and running again in 3 years you can keep it. However if you fail to take care of it, the villagers will have the right to kick you out of town. Thus the game officially begins.
Information Pages
Back to Nature Images