DS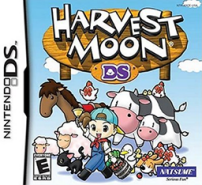 Published by Natsume Inc.
Developed by Marvelous Interactive
Platform Nintendo DS
Release Dates
Japan February 17, 2005 - North America September 12, 2006 - Europe April 13, 2007
Game Info
HM DS opens up with the both the Harvest Goddess and the Witch Princess having a bit of a feud. The Witch Princess ultimately get's fired up and ends up spouting a spell that turns the Harvest Goddess to stone and in her attempt to change her back, she ends up sending her to who knows where!?
Feeling a little guilty she decides to sends the Harvest Sprites off to find the goddess. Using the same spell as before the sprites vanish from view. Once they're all gone you will appear on the screen with the Witch Princess who basically tells you to find them all during your work.
Thus your goal in the game is to find all 101 Harvest sprites and save the Goddess. Can you do it?
Features:
- Uses the touch screen so players can interact with their animals
- Allows both cats and dogs
- Ducks are introduced!
Information Pages
DS Images