DS Cute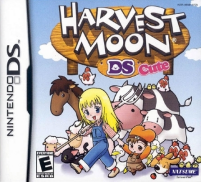 Published by Natsume Inc.
Developed by Marvelous Interactive
Platform Nintendo DS
Release Dates
Japan December 8, 2005 - North America February 23, 2008 - Europe
Game Info
Unlike HM DS, DS Cute opens up a bit differently. Apparently when your mother died she asked the Harvest King to help you become a successful farmer. Deciding to take on her wish, he sends the Harvest Goddess to your house in the night while you're sleeping. However, the goddess doesn't believe you have what it really takes to take on the farming life!
In the end, the two Deities end up in a fight which the Harvest God finishes by punishing the Harvest Goddess and sending her away. Seeing how her sprites are loyal to the core, they repeat the bantering until he sends them off as well.
Thus the goal in the game is set, can you find the Goddess and her sprites as you try to create the best farm Forget-Me-Not Valley's ever seen?
Features:
- Play as a girl
- Two different main characters! Claire or Jill.
- New bachelor: Phantom Skye
- Ducks
- Beauty Box
- Themes for the inside of your house
- new clothing choices
- and more
Information Pages
DS Cute Images