Frantic Farming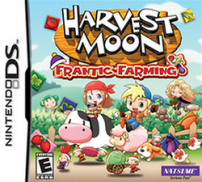 Published by Natsume Inc.
Developed by Marvelous Interactive
Platform Nintendo DS
Release Dates
Japan August 7, 2009 - North America August 25, 2009 - Europe
Game Info
This game is very similar to the other HM Puzzle game, PDHM, however this one has a story mode where you have to go through a chain of events and dialogues with some of your favorite characters from Island of Happiness.
If you choose to play under the story mode here is main plot: Your farmer (either Mark or Chelsea) wake up after having a strange dream. When they get outside they realize that their crops have grown abnormally large!
After that, the farmer you didn't choose will show up on your farm telling you that the crops have grown all over the island! Can you figure out what's going before he island is overrun by gigantic vegetables!
Information Pages
Frantic Farming Images