Grand Bazaar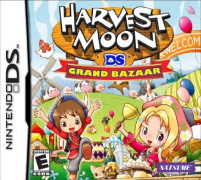 Published by Natsume Inc.
Developed by Marvelous Interactive
Platform Nintendo DS
Release Dates
Japan December 18, 2008 - North America August 25, 2010 - Europe September 2011
Game Info
In Harvest Moon: Grand Bazzar, you can grow seeds, take care of animals, and sell your goods in the local bazaar every Sunday. Zephyr Town is full of many local villagers who help run the stalls in the Bazaars.
When starting the game you will be asked your gender boy or girl.
After wards Mayor Felix will ask you your birthday, and then talk to you about the bazaar for a little. Soon enough he will take you to your farm, which is when you pick your ranch name, and then he will go through some helpful tutorials. Once the basics are all done Felix will hand over some tools to you along with some seeds and fertilizer.
Features:
-You can play either boy or girl.
-Players can blow on the DS' microphone to make the windmill blades spin faster.
-There is no shipping bin.
-The return of the horse race festival.
-Owning multiple pets, either dogs or cats.
-Herding animals is done by your pets.
- A new jump movement.
-Bug collecting
-New Flower festival, Tea Party, and Wine Festival
-The removal of the mines.
-All new cast of characters!
-New crops such as: Cauliflower, Olives, Coffee, Yellow Peppers and Radish.
-And more!
Information Pages
Grand Bazaar Images