Island Of Happiness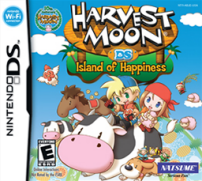 Published by Natsume Inc.
Developed by Marvelous Interactive
Platform Nintendo DS
Release Dates
Japan February 1, 2007 - North America August 26, 2008 - Europe December 12, 2008
Game Info
This game has a bit of a different story. It opens up with you being on a boat in search of a new land to live on. However during a bad storm the boat is swallowed by the sea leaving its passengers scattered on an uninhabited island. Instead of panicking you and Taro and his family decide to live on the island and make it a hot spot.
Features:
- Entirely touch screen!
- Crops depend on changing weather
- Wonderfuls are need to inhance your tools
- You must develop the island to unlock the 90 different people.
- New cast of characters
Information Pages
Island Of Happiness Images