Magical Melody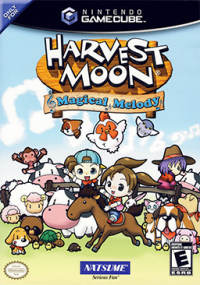 Published by Natsume Inc.
Developed by Marvelous Interactive
Platform GameCube
Release Dates
Japan November 10, 2005 - North America March 28, 2006 - Europe March 14, 2008
Game Info
Hearing about the "Exciting Ranch Plan" your farmer takes off to Flowerbud Village in the hopes of starting a life. Upon arriving however it seems something's gone terribly wrong! The people have forgotten how to appreciate life and the Harvest Goddess has been turned to stone! Can you collect enough musical notes and revive her?
GameCube Features:
- Play as a boy or girl!
- Buy Farm land next to a river, along a seashore, or in a village!
- Plant crops, raise livestock, dig for gems or just fish!
- Beat your farming rival in the fields and at the festivals!
- Unlock hidden multiplayer mini games!
Wii Features:
- Can only play as a boy.
Information Pages
Magical Melody Images