Sunshine Islands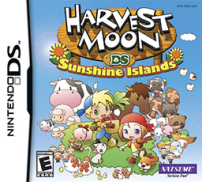 Published by Natsume
Developed by Marvelous Interactive
Platform Nintendo DS
Release Dates
Japan February 21, 2008 - North America November 10, 2009 - Europe November 25, 2010
Game Info
This game is very similar to Island of Happiness, not just in graphics but characters. You can either start out as a boy or girl, who has just recently moved to the Island. Seeing how many of the villagers are already living there you don't have as many to unlock in like IoH however you still need to unlock them to help restore the island to its former glory.
To do this, your goal is to collect Sun Stones, which are used to bring the sunken islands up from the bottom of the ocean. Can you bring the islands back up from the shadowy depths of the sea?
Features:
- New Marriageable Candidates: Will and Lily
- You can befriend and hire wild animals
- More items to "collect"
- and more...
Information Pages
Sunshine Islands Images