The Tale of Two Towns
Published by Natsume Inc.
Developed by Marvelous Interactive
Platform Nintendo DS
Release Dates
Japan February 25, 2010 - North America September 20, 2011 - Europe n/a
Game Info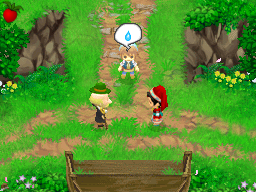 This is the newest DS game in the Harvest moon Franchise. Tale of Two Towns will take you to two different villages. Konohana and Bluebell, which are connected together by a mountain tunnel. According to the story, there was a time when the two villages got along great despite their various differences. However, the one thing they could never agree on was food. That's right, food. Their cooking styles were completely different thus they began to feud. After awhile things got so bad that the tunnel connecting the two villages was completely closed off!
At the start of the game you will be asked to pick a village to live in and build a farm from the ground up. So do you think you have what it takes to help reunite the villages?
Features:
- New animals like Alpacas and Honey bees
- New Crops
- An Owl that can fly you places
- Play as a girl or boy
Information Pages
The Tale of Two Towns Images