RPG Information
Welcome to HM Meadow role-playing game!
*This Section of the forum is closed at the current time.*
This is a text-based Role Playing Game that takes place on a specific section of the HM Meadow Message Board.
It is absolutely necessary that you read ALL the rules and explanations before joining. The rules exist to further enhance your, and everyone else's experience.
You can find the rules listed below as well as on the forum in the RPG section of the message boards. If you have any questions please post in the RPG Discussion board.
Conamu Village
The village that the RPG takes place in is called Conamu village. It has several areas in it including the town square, a meadow, mountains, forests and a pier.
The village and all other "sub-boards" dealing with the RPG are located on the lower half of the message board.
Below is an indepth look of each area in our RPG.
Village Square – Is one of the best places in Conamu! Pretty much all the shops are placed here making it a bustle marketplace with goods of all kinds from clothing to food. This is also where most of our festivals will be held throughout the seasons.
Lower Village - Is the lower and more residential area of the village. This is the absolute best place to build a house. This area is perfectly made for living. It is very quiet, and very peaceful.
Maji Meadow - Maji Meadow is a gorgeous wide open meadow, with plenty of room for farms to be built. The soil is perfect for planting crops and grass for animals to eat.

Tounju Mountains - Are very tall, and unlike most mountainous areas that are rocky and dry, these mountains are moist and filled with nature. There are many caves and caverns to explore. Also, there are several long trails to go hiking through the mountains on. This is also where you can find the Hot Springs if you're feeling a little fatigued.
Dehap Forest - Is a deep, lush forest. Many trees stand tall and flowers bloom in bright color. The forest is very still and a perfect living area for one who loves being alone. There is a huge pond in the forest that is perfect for fishing and other activities.
Village Pier - Down by the beach is the Village Pier. A wooden structure that was constructed about 15 feet above the beach and ocean. Since this is a popular area during the summer time, one may want to place a shop here if the product(s) will sell better in that season. The beach and ocean are available to the public as well.
Village Map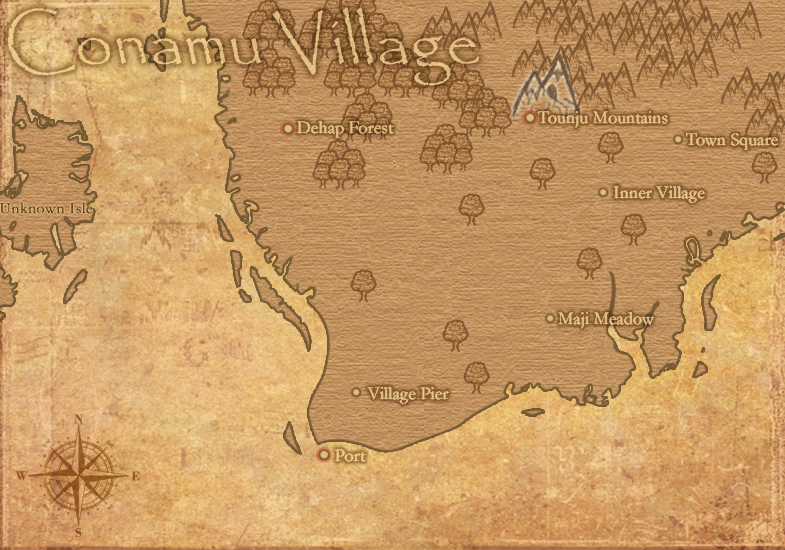 RPG Pages